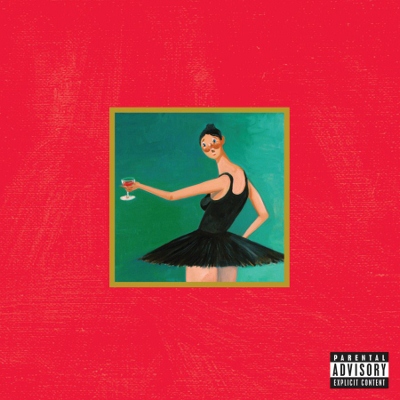 This week America grappled with the gargantuan task of setting aside Kanye West's epic douchery and attempting to appreciate his fantastic new album entirely on its own merits. Not easy.
My Beautiful Dark Twisted Fantasy
was released on Tuesday with the predictable fanfare and rave reviews expected for our generation's most revered megalomaniac.
Fantasy
is a pop album. A meticulous, triumphant pop album - with, sometimes, pitiful lyrics. But instead of borrowing from musical past to regurgitate his own version of
Thriller
, West takes some of today's more successful musical tropes, then uses broad strokes to apply each one to his own inchoate repertory.
It's this collage method that helps Kanye craft a pop album more successfully than contemporary crossover rap stars. Lil Wayne rode mixtape madness to the top of the charts. However, when Weezy strapped on a guitar for
Rebirth
, the results were met with mild derision and ample head scratching.
Kanye places a funky guitar riff into "Gorgeous" with the deft skill of a veteran producer. The saucy lick drips all over the track without sounding forced or haphazard. He may not play the instrument, but he knows exactly where to put it.
I suppose one would point to Jay Z - an artist who attempted to turn his rhymes into a new American songbook - as the most ambitious hip-hop 'pop' star these days. But although Jay's "Empire State of Mind" has an indelible hook, the song's ubiquity is wearing thin and may soon be relegated to the 'used bin' of once great pop songs.
Kanye's "Runaway," however, reaches for the stars and comes down with something altogether epic and completely unique - standing apart from traditional verse/chorus blather. The refrain even borrows more from
Kid A
than Kid Cudi - which again speaks to Kanye's range of influences and methods of attack.
(Also, in a genius and unpredictable paring, Kanye teams up with Bon Iver's Justin Vernon - another musical recluse with lady problems.)
But an assessment of all things Kanye could not be done without tackling his massive self-inflation and tendency to self-evaluate even the minutiae. The artist has nearly abandoned interviews. He prefers Twitter, instead. In a recent episode with Matt Lauer, almighty Kanye even tried to micromanage the production of the
Today
show during his own interview.
So overly concerned with the deconstruction of everything he does, Kayne has created an impenetrable wall around his art. Recorded in Hawaii,
Fantasy
could well have been created on the moon. Although dipping into genres, and styles, and samples, and guest verses - the album exists on its own, far away from the club bangers of NYC, or the sunny pop of Cali, or the dirty beats of Detroit.
To most accurately contemplate
Fastasy
you need to traverse the landscape in which it was created - one unsurprisingly ruled by Kanye himself. And, you'd assume, this was exactly the way he wanted it. I promise; he's so self-conscious.