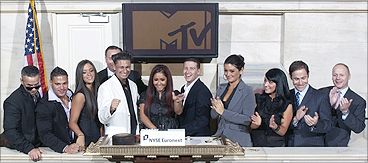 Why?
MTV's parent company Viacom sent the dbag characters of the Jersey Shore to the New York Stock Exchange to ring the opening bell in a daily PR stunt performed on the floor of the exchange.
The whole crew was there: the Snooki (the average looking short girl), The Situation (former stripper), Angelina (the receptionist at the dental office on Bard ave.) and Pauly D.
One notable aspect of this culture clash is that a boat load of stock brokers on the exchange are from Staten Island. It'd be interesting to know how these traders - with real jobs - feel about the reality TV sleazeballs making piles of cash from aping their heritage and making their entire ethnicity look bad.
Here's a video from CNBC. Mark Haines is flummoxed by the cast's popularity, repeatedly asserts that they are not from New Jersey, and then blasts them for not agreeing to an interview.
"They're allowed to stand and smile, but they're not allowed to talk."